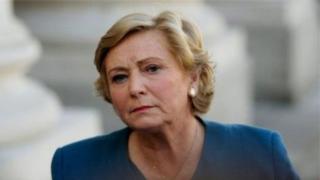 Ireland's deputy prime minister Frances Fitzgerald has offered her resignation, averting a snap general election.
Taoiseach (Irish prime minister) Leo Varadkar said he accepted her offer.
Ms Fitzgerald had been at the centre of a Garda (Irish police) whistleblower controversy which could have resulted in bringing down the government.
She quit hours before a Fianna Fáil motion of no confidence in her, which was due to be debated in the Dáil (Irish parliament) at 20:00 local time.
There were fears that an election could have complicated next month's EU meeting, at which the Republic of Ireland's position will influence the assessment of the UK's progress in Brexit talks.
Ms Fitzgerald had been under pressure to resign because of her inaction in supporting a Garda (Irish police) whistleblower whom she had been publicly defending as Irish justice minister.
Last week, it was revealed that she had been told of an attempt to discredit Sgt Maurice McCabe by lawyers for the garda commissioner at a commission of enquiry a year earlier than she had previously admitted.
She said she had forgotten the email and was precluded forgone acting on legal advice.
The publication of further emails on Monday showed she had been aware of the attempt to discredit the whistleblower on one other occasion and was seen by many in her Fine Gael party as undermining her position.