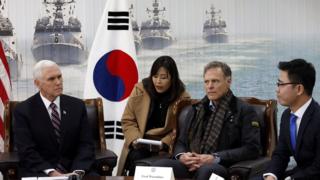 US Vice-President Mike Pence has skipped a dinner at which he was due to share a table with North Korea's ceremonial head of state Kim Yong-nam.
Mr Pence briefly encountered Kim Yong-nam but they tried to avoid directly facing each other, Yonhap reported.
They were being hosted by South Korean President Moon Jae-in before the opening of the Winter Olympics.
The Games in Pyeongchang are taking place against a background of tension over North Korea's nuclear programme.
Mr Pence has brought with him as a guest Fred Warmbier, the father of a young American who died after being released from prison in North Korea.
Meanwhile on Thursday North Korea held a military parade that had been scheduled for April but was brought forward.
The US vice-president left the reception venue after five minutes, Yonhap said.
South Korea's Mr Moon has shaken hands with Kim Yong-nam.
Kim Yong-nam and North Korean leader Kim Jong-un's sister Kim Yo-jong are attending the opening ceremony in Pyeongchang.
She is the first immediate member of the North's ruling family to visit since the 1950-1953 Korean war.
Ms Kim, who is said to be very close to her brother, was promoted to the North's powerful politburo last year.
She is on a US sanctions list over alleged links to human rights abuses in North Korea.
Ms Kim is thought to be about 30 years old, around four years younger than her brother.
Her visit is being seen as a sign that Kim Jong-un is serious about improving ties with the South, the BBC's South Korea correspondent Laura Bicker reports.
She adds that some are also speculating that Ms Kim might be bringing a message from her brother.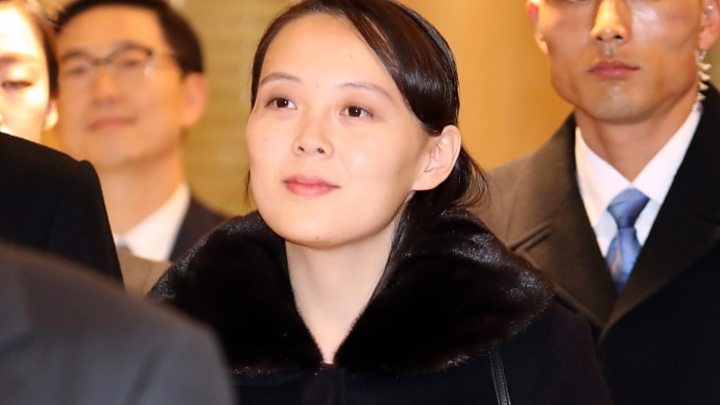 At the Winter Olympics, both North and South Korea will march under one flag at the opening ceremony.
Alongside 22 athletes, Pyongyang has sent more than 400 delegates to the Games, including a team of cheerleaders and an orchestra.
The sports diplomacy comes at a time of improved relations between the two Koreas, although experts have cautioned that it does not put an end to underlying regional tensions.
The Korean peninsula has been divided since the 1950-53 war and the two sides have never signed a peace treaty.